We File Personalized, Manual Claims To Get You
Money Back From Amazon FBA!
Sign Up
Valuable
It isn't safe to assume that FBA reimbursements and fees are always processed correctly. With so many sellers and so much inventory, mistakes happen. Refunds Manager recovers funds that would otherwise be lost.
Affordable
There are no monthly fees and no long-term commitments, meaning you have nothing to lose and everything to gain. Our professionals will find and locate your refunds, and when you get paid we earn a 25% commission.
Safe
We've been in business over 5 years, and we know Amazon DOES NOT want automated claims. That's why we never automate the claims process. Our account auditors file all claims personally and manually for you.
You sync your Amazon seller account with Refunds Manager
We search for customer return issues, misapplied fees and more
Your designated account auditor submits and tracks all claims
We Resolve The Following Issues
Returns: We reconcile every transaction on a per item basis. We make sure that the number of received orders and return reimbursements match up.

Overages: We ensure that the customer is refunded exactly what they were initially charged.

Damages: We look for items that were damaged by the inbound shipper.

Replacements: We track when an item is replaced, ensuring that the original is returned.

Return Policy: We track all orders to ensure they are returned before the 30 deadline. We make sure that Amazon has refunded your 20% restocking fee (per Amazon's policy) or the full amount.

Missing Inventory: We find missing inventory (inventory that is debited but never returned after 45 days).

Overage Fees: We ensure that you are not overcharged for weight or dimensional or Amazon commission fees.

Damaged Inventory: Even Amazon makes mistakes. We track items lost or damaged by the Amazon warehouse to ensure you are properly compensated for lost stock.
We Follow Amazon's Terms of Service
We always grant Amazon sufficient time to reimburse before opening a claim with them.
We follow the right protocol for each individual case type.
We NEVER automate correspondence with Amazon—every interaction is handled by your account auditor.
Immediately Recover Funds Dating Back 18 Months
After you sign up and sync your account, our software goes to work. You can view any case inside Refunds Manager, and we'll notify you as soon as reimbursements come through.

Get started today and receive unexpected credits and reimbursements in your Amazon Seller account.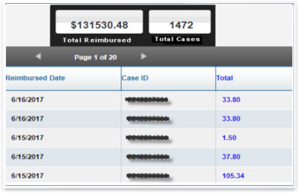 "Just reviewing the cases takes hours, I don't know how I ever could have done it without Refunds Manager. You have saved me tons of time and money."

On the show Monday I introduced the audience to the Refunds Manager. I was excited because they got 4 negative feedbacks removed - ones that I had already tried and failed. Well, since Monday they've filed a ton of cases on lost inventory, thanks to that I have ALREADY been issued credits of $948.16! And it's still going. RefundsManager takes 25% of recovered funds as their fee but I'm happy to pay $250 for $1000 more in my account that I expected this pay period.Refunds Manager - I LOVE you!
This service is such a blessing! In the first two weeks signed up with Refunds Manager I've already been reimbursed the equivalent of 50% of one of my amazon distributions. That money would have been impossible to get back on my own. So glad I signed up!